by George Hammond Economic and Business Research Center Director and Eller Research Professor
Arizona exports merchandise to countries around the world. As a result, when the global economy slows or falls into recession that impacts Arizona exporters and the Arizona economy.
Arizona's exports fall into two main categories: exports of merchandise and exports of services. We have hard numbers for state merchandise exports from the U.S. Census Bureau (  USA Trade Online  ). Data on Arizona's service exports are harder to come by. Examples of service exports are the expenditures of international visitors to the state and foreign purchases of engineering consulting services in the state, to name two examples.
In 2019, the value of Arizona's merchandise exports to the world hit $24.7 billion dollars. That accounted for around 6.7% of Arizona's GDP in 2019, ranking the state about 18 th  in the nation. The GDP share and rank are rough estimates because the U.S. Bureau of Economic Analysis has not yet released 2019 state GDP.
Mexico was our largest export destination last year, with $8.2 billion, accounting for roughly one-third of the total. Canada was our second largest destination at $2.1 billion, followed by China at $1.1 billion.
To date, China has been hit hardest by the spread of COVID-19. Their industrial activity has been significantly curtailed and travel to/from China has been restricted. What does that mean for Arizona?
Low rates of industrial activity in China matter in part because Chinese firms import goods from Arizona. Thus, less economic activity in China means lower exports from Arizona to China. This matters, but the impact will probably not be big, at least on the demand side. Arizona exports to China in 2019 accounted for about 0.3% of state GDP.
Exhibit 1  shows how Arizona's merchandise exports to China and the world break out by NAICS industry. Note that the top two Arizona industries exporting to China were computer and electronic products and transportation equipment (autos, aircraft, and associated parts). Those two industries are likely to be impacted somewhat by the Chinese economic slowdown.
Exhibit 1: Arizona's Merchandise Exports to China and the World in 2019, by NAICS Industry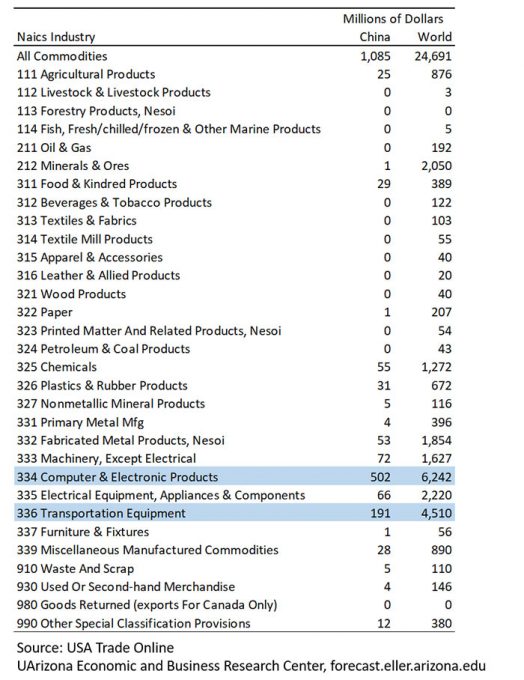 Overall, the external demand shock from China will probably not, on its own, slow Arizona's growth much. However, keep in mind that China also matters for Arizona's production because it is likely part of the state's global supply chain. In other words, if Chinese suppliers cannot produce the goods that Arizona's manufacturers need for their production to continue, that would be an additional source of drag on the state economy.
Also keep in mind that as the virus spreads across the world, the foreign demand shock will grow. If Mexico is greatly affected, then that will be a more pressing concern. More details on that later.
Finally, the spread of the virus is already having big impacts on global travel and tourism. We will be tracking that using plane/passenger data through Phoenix Sky Harbor and Tucson International in upcoming posts.
As always, check back often for updates.